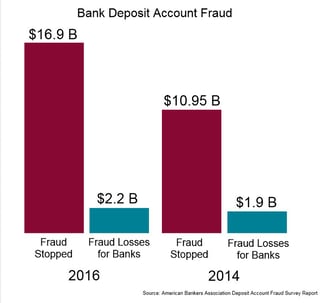 Thanks to more sophisticated fraud detection and prevention technologies, banks are getting better at stopping fraud attempts. A new report from the American Bankers Association revealed that banks were able to stop $17 billion in fraud attempts in 2016.
What that means, according to the 2017 American Bankers Association Deposit Account Fraud Survey Report, is that banks were able to prevent $9 out of $10 attempted deposit account fraud in 2016. In response to the rapidly-growing sophisticated fraud schemes, banks are integrating more technologies in order to enhance their customer protection measures. Typically, this means smarter security software, and newer technology innovations like platforms that rely on machine learning capabilities and data analytics to detect fraud faster and more accurately.

Attempted bank deposit fraud reached $19.6 billion in 2016, which was a stark increased from the $12.9 billion seen in 2014. While there was a 48 percent increase in that timeframe, fraud losses for the industry only rose roughly 16 percent — or $2.2 billion.
The study also indicated that debit card fraud accounted for 58 percent of losses, or $1.3 billion. Check fraud also continues to rise, accounting for 35 percent of fraud losses. According to the study, this was the first increase in that particular category since 2008. Other fraud losses for banks were attributed to online banking and electronic transactions, including wire and ACH payments not initiated online. That accounted for 7 percent of fraud losses.

Gas pump and ATM skimming continued to be another problem banks continue to face. In 2016, 65 percent of survey respondents experience gas pump skimming attempts, and 54 percent experienced ATM skimming attempts. Counterfeit card remains another leading type of debit card fraud, with CNP's share increasing to 30 percent of debit fraud loss. That's double 2014's figure. 2017's figures will likely tell a similar story.