Here at Rippleshot we're all about the power of data. More specifically, the power of data to help issuers make more strategic decisions when it comes to analyzing risk from compromised cards, managing the spread of fraud and implementing more effective reissuance strategies.
In the final weeks of the holiday spending rush, issuers will be working diligently to analyze consumers spending behavior, track fraud patterns, determine where there are gaps in their fraud management, and decide how it all fits into their 2018 strategic planning. This includes how they'll educate their cardholders how to better protect themselves, and what types of fraud solutions they'll invest in to better protect their cardholders — and their own bottom line.
To help issuers wrap up the 2017 holiday season plans — and prepare for 2018 — we've gathered our three latest guides on the subject to help you stay updated on the latest trends in fraud management.
---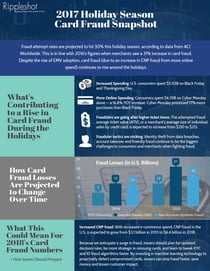 Issuers already know consumers are spending more online – which means an uptick in CNP fraud.
What's contributing to this rise in fraud — particularly around the holidays? How are consumer spending habits impacting how financial institutions combat card fraud during the holiday season? There's plenty of fraud trends that continued throughout 2017 that will help issuers learn from as they prepare for the new year.
Learn what fraudster habits are sticking around at the tail end of 2017, and how it will impact the fraud rates heading into 2018, in our infographic: 2017 Holiday Season Card Fraud Snapshot.
---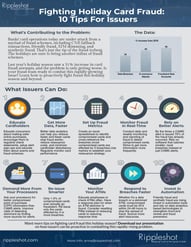 Last year's holiday season saw a 31% increase in card fraud attempts. What will this year's numbers be? Have yourprepared for the fallout following the holiday fraud rush?
Learn how to stay ahead of card fraud, what's contributing to the rising fraud rates and how you can equip your organization and team members with the tools to combat the spread of card fraud. Download our quick-and-easy guide, Fighting Holiday Card Fraud: 10 Tips for Issuers, to help you proactively fight fraud this holiday season and beyond.
---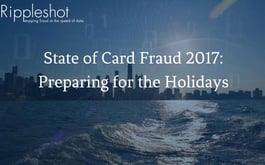 Banks' card operations today are under attack from a myriad of fraud schemes, including CNP, fallback transactions, friendly fraud, ATM skimming, and synthetic fraud, just to name a few.
Get industry-wide updates, including evolving threats, emerging fraud trends and how banks and credit unions can proactively fight fraud this holiday season and beyond. Explore the rapidly-changing card fraud ecosystem and read how to stay ahead of the trends in this presentation from Rippleshot Co-Founder and Solutions Specialist Canh Tran: The State of Card Fraud 2017: Preparing for the Holidays.