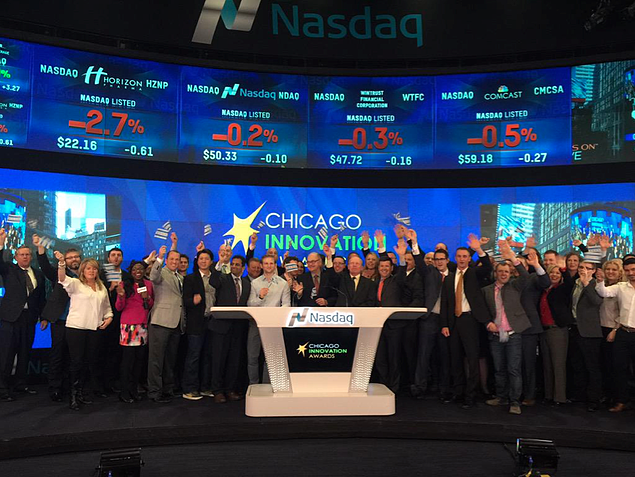 On Monday, Rippleshot joined the Chicago Innovation Awards team and fellow 2014 winners in New York City to ring the Closing Bell at the Nasdaq Stock Market.Rippleshot joined an esteemed list of both established and upcoming Chicago innovators including: 640 Labs, alligatortek, Auctions By Cellular, Beltone, Caremerge, dough, Horizon Pharma, Keeper Security, KENTECH, LMK Technologies, LuminAID, Mattersight, Options Away, Packback, Pangea, Radio Flyer, Rise Interactive, Shiftgig, Strata Decision Technology, Swingbyte and ThinkCERCA.
The event, arranged by the Chicago Innovation Awards, emphasized the surge of innovation that is occurring in the Chicago region, and shined a spotlight on the organizations that make up its vibrant economy. "This annual event is an excellent example of how the Chicago Innovation Awards celebrates the spirit of innovation in organizations across all industries, sizes and sectors," said Tom Kuczmarski, co-founder of the Chicago Innovation Awards.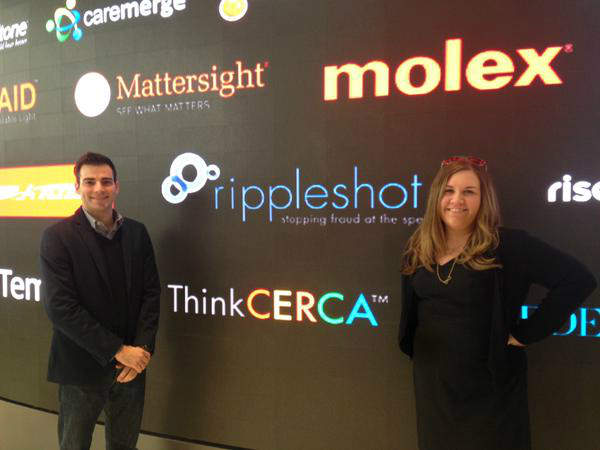 "We congratulate Rippleshot for winning the Chicago Innovation Awards, and applaud their commitment to innovation," said Dan Miller, fellow co-founder.
The Rippleshot team was thrilled to stand alongside so many impressive companies and rally around all the great work coming out of Chicago. Its tight knit and supportive tech community has played such a large role in Rippleshot's success, and we were honored to come out to New York City and celebrate it on a national stage.
About Rippleshot
Rippleshot's technology detects payment card data breaches faster than anyone else on the market, allowing card issuers, processors and merchants to proactively monitor suspicious activities and implement smarter fraud risk management strategies when breaches do occur. Rippleshot detects the ripples before the tsunami, the tiny anomalies that signal a looming data breach - and let you know earlier, so you can play a pivotal role in reducing fraud loss, improving cardholder security and reducing the severity of breaches.
About Chicago Innovation Awards
The Chicago Innovation Awards, established in 2002, have grown from a single awards ceremony to a year-long series of events and activities designed to celebrate innovation in the Chicago region, educate people and organizations about the principles of innovation, and connect the corners of the economy by building relationships that strengthen companies, grow the economy and create jobs.